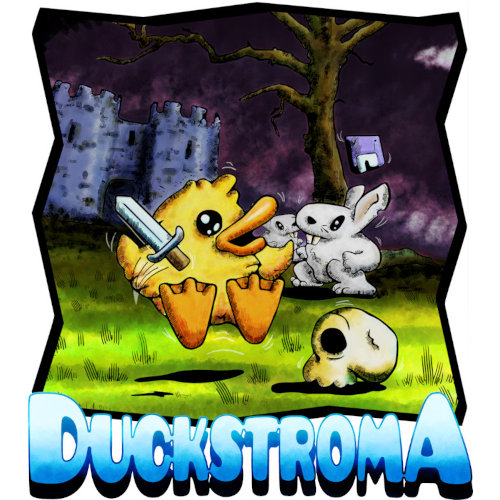 DUCKSTROMA
EARTH 1985, A DIFFERENT DUCKMENSION
Meet Aura, she's a delivery duck and about to have a life changing day on the job. A client has requested 8 disks be delivered to them, but this won't be an easy task. Using Aura's skills navigate the hostile environment by bouncing on weak foes, even lay an egg to reach higher spots.
INFORMATION
This game comes as a .TAP/.TZX file usable on the ZX Spectrum 48k (or 128k) home computer, a .ROM file for MSX home computer, .NES file for Nintendo Entertainment System and a .ADF for the Commodore Amiga (PAL).

MISC
Amiga (PAL) version requires 1MB of RAM
MSX version is for 50hz machines (Music incorrect speed at 60hz).
Daddy Cool (modified) original font by Damien Guard
Pusab (modified) original font by Flat-it
Virgo.01 (modified) original font by Vic Fieger
(MSX/ZX)
Created with Multi Platform Arcade Game Designer by Jonathan Cauldwell.
Music track is 'Spring Came' by Shiru
https://shiru.untergrund.net/music.shtml
Licensed under Creative Commons: By Attribution 3.0 License https://creativecommons.org/licenses/by/3.0/

(Amiga)
Created with Scorpion Engine by Erik Hogan.
Music by Songerson
songerson_-_dog7
songerson_-_dog24
songerson_-_dog64
Licensed under Creative Commons: By Attribution 3.0 License https://creativecommons.org/licenses/by/3.0
-----------------------------------
ABOUT NES VERSION
This is an abandoned NES prototype, just collect a single disk.
Good Luck!

Download
Click download now to get access to the following files:
Duckstroma MSX v1.02
21 kB
Duckstroma Demo Amiga
336 kB
NES - Duckstroma Proto
259 kB
Duckstroma - Full Game - Amiga
1 MB
if you pay $2.99 USD or more
Comments
Log in with itch.io to leave a comment.
Awesome Game! I finished it.
Absolute stonker of a game. Played the Amiga version for now, will get to Spectrum soon! Its Hard, Annoying. Fantastic. Love it :)

Great game! I almost managed to deliver the 8 disks, but then I would have revealed the password for Act 2, right? Would still be interesting which second item there is ;)
Well done, you get shown a password after delivery on this level.
The bit where you died at end requires you to use down to drop through platform, I noticed nobody uses that feature.

Hitch on Twitch made me buy this chicken game
Hello! I just got Duckstroma but, although it works on emulator, the .tap file doesn't work on my real ZX Spectrum toastrack with DivIDE. The screen just change into "Duckstroma is loading" but it never finish. Am I doing something wrong?
Nope, I've discovered the .tap file (converted from the .tzx) doesn't work on all hardware. Until I update game it's best to load .tzx in an emulator, save a .sna and use that.

Thanks for releasing a new game for the ZX Spectrum. Duckstroma is quite fun, if you don't think too much how an egg can make you to jump higher :)
Good job UltraNarwhal
Do you plan on doing physical cartridges for the NES version? Maybe through Kickstarter?
There'll probably be physical NES version, but I'm not thinking about it until game is finished.